Last week Housing Colorado paired up with the Colorado Department of Local Affairs (DOLA) to talk about how the National Housing Trust Fund (NHTF) will affect the affordable housing market in Colorado.
What is this fund?
The National Housing Trust Fund is a permanent federal fund that was created in order to increase and preserve the supply of rental housing for extremely low and very low income families. The fund is made possible by the Housing and Economic Recovery Act of 2008 (HERA) which requires the companies, Fannie Mae and Freddie Mac, to transfer a percentage of their new business to finance the fund. This is important now, because the funds will begin to be distributed this summer. For more information, here is an overview of the National Housing Trust Fund video from HUD.
Here's a better look at the NHTF implementation timeline: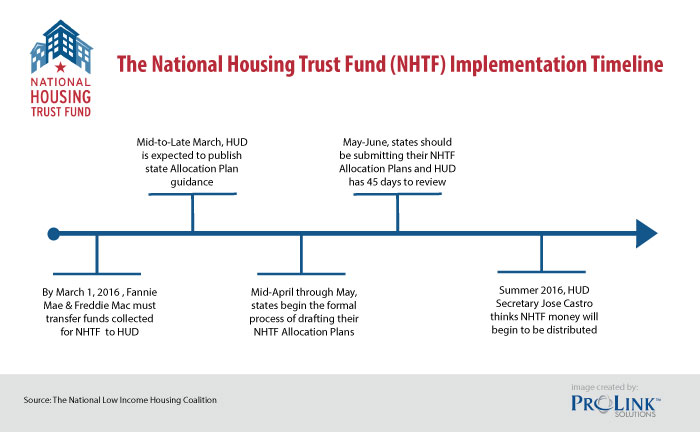 How Much Funding will Colorado get?
As of February 18th, 2016, Fannie Mae and Freddie Mac filed annual reports that cite $173.7 million will be allocated for NHTF in 2016. Each state and the District of Columbia will receive a minimum of $3 million dollars each. The total amounts allocated to each state was just announced and as predicted, Colorado received the minimum amount of funding.  Check out the full allocation amounts here!
How will Colorado Utilize these Funds?
Like all government programs, there are a handful of regulations and requirements surrounding NHTF. All states must ensure that they use at least 80 percent of this funding towards rental housing, up to 10 percent for homeownership, and up to 10 percent for the grantee's reasonable administrative and planning costs. NHTF funds may be used to support the production or preservation of affordable housing through the acquisition, new construction, reconstruction, and/or rehabilitation of non-luxury housing with suitable amenities. Also, all NHTF assisted units are required to have minimum affordability for at least 30 years.
In Housing Colorado's webinar, DOLA reviewed the two priorities that they will have when allocating their estimated $3 million dollars. The first is to help Supportive Housing projects, and the second is to help extremely low income areas with 30% area median income (AMI) units in mixed-income developments.
Supportive Housing projects are affordable, community-based housing that provides people with disabilities or special needs with links to supportive services. Applications for this type of project have a tentative due date of late 2016, possibly November 1st, and must include 25% of the units set-aside for supportive housing.
With any additional funds, Colorado will begin accepting RFA or applications in early 2017 for their second priority project, 30% AMI units in mixed-income developments. NHTF will help fund 30% AMI rents that would not have been financially feasible before. Also, the NHTF subsidy per unit based on cost will replace 60% AMI units with 30% AMI units. This will help both the very low income households, and more importantly the extremely low income households.
Additionally, Colorado plans on focusing Senior Housing and supporting Geographic diversity with any additional funds they have that aren't supporting the two programs just outlined.
More Resources
It's with the mission of affordable housing in mind that the NHTF was created as a way to continue to support the 7.1 million poorest households in America who can't afford even the most modest rental home. We here at ProLink are excited to see how the additional $3 million in funding will help our neighbors in Colorado, as well as all the other states and District of Columbia!
Want more information on NHTF? Head to the National Low Income Housing Coalition for more resources: http://nlihc.org/issues/nhtf or contact us at hi@prolinksolutions.com!
Sources:
Housing Colorado
Colorado Department of Local Affairs
Federal Register
National Low Income Housing Coalition
National Council of State Housing Agencies