The available technology options supporting Housing Finance Agencies (HFAs) in their mission to provide affordable housing to all have come a long way in the last decade.  When we first began our journey bringing our technology expertise to the affordable housing market, very few vendors existed and in-house software development was the only option for many agency IT leaders.
Fast forward to 2016, and a variety of technology options are now available to HFAs.  With many of the in-house systems becoming a challenge to maintain, HFAs are now pressed with a decision of whether to continue with an in-house software development approach or explore the process of working with external vendors.
Recently I came across an article from BlackRock on "The Role of Technology within Asset Management".  While the main focus of the article is on market rate investment and asset management technology best practices, much of the information in the article is relevant to the tough decisions HFAs face when analyzing technology options to support their operational and agency objectives.
After reading the article, I was inspired to share some of my key takeaways on the ProLink Solutions blog.
The Affordable Housing Asset Management Ecosystem
The similarities between affordable housing asset management and traditional investment management are stark.  The nuances in HFA lending, allocating, compliance, asset / risk management are multiplied by the complexities of complying with a variety of government sponsored programs.
Just like in market rate asset management, HFA Asset Management teams must act in a fiduciary capacity as an agent on behalf of the Housing Finance Agency.  By working in close coordination with the Tax Credit Allocation and Multifamily Lending teams, Asset Managers are the front line to ensure grants, bonds, tax credits, and loans are issued to financially viable developers – maximizing the impact of those funding sources to the communities served.
An HFA's organizational risk tolerance and underlying portfolio objectives drive sustainability and long term portfolio success.  By acting in a proactive manner, Asset Managers can identify troubled properties and allocate funding correctly to maximize the impact of their portfolio.
Collaboration over Competition
While many articles talk about technology as a competitive differentiator, the affordable housing industry has a responsibility to collaborate effectively to achieve a shared mission.
Having just returned from the ProLinkHFA User Group meeting in Boulder, Colorado, we heard from our clients that one of the primary values of the meeting is the opportunity to brainstorm process and technological integration ideas with other agencies.  Rather than viewing each other as competitive entities, there was a firm spirit of collaboration between all the participating HFAs.
The Build vs. Buy Choice
The question of whether to "Build" a system internally vs. working with an external vendor and "Buy" a system is one of the most difficult challenges facing IT professionals today – the affordable housing industry is no different.
Many articles, recommendations, and best practices have been written on this subject.
A variety of factors play into this decision: risk tolerance, internal IT resource availability, length of system or program supported, continual technology upgrades, existing investment, system integration requirements, reporting capabilities, total cost, stakeholder buy-in, customization requirements, and much more.
Below is a snapshot image from the BlackRock article which is one of the better Pros / Cons lists I have seen on the Build vs. Buy choice.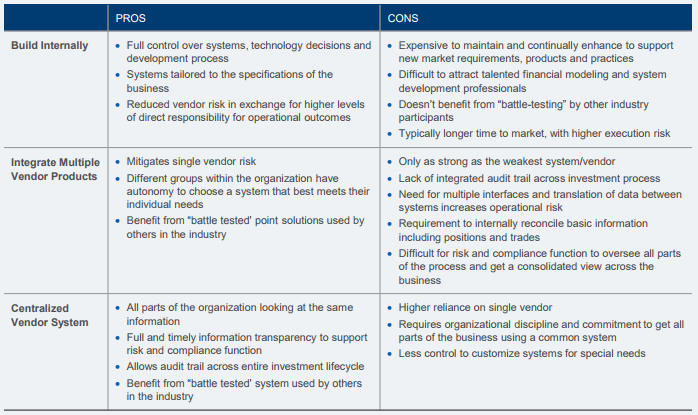 Source: The Role of Technology Within Asset Management, BlackRock
Now, we certainly have a bias on this issue as a software vendor providing technology to the affordable housing industry.  That said, our stance at ProLink is that the number one priority for the affordable housing industry is to maximize the impact of agency funding to deliver more roofs to a deserving population.
As a private company supporting this industry, it is our goal to find a way to increase industry collaboration while supporting individual agency missions to deliver on this objective.
Bringing it together
The decision to build vs. buy often depends on a wide variety of agency specific criteria.  At ProLink, we work closely with our clients to bring a blend of market tested technology configured to meet your specific agency processes and objectives.  This blend has proven to be a "best of both worlds" approach towards technological implementation, development, and support.
The ProLinkHFA Software Suite continually evolves based on feedback from our HFA clients – with 30% of all maintenance fees invested directly back into the product in the form of new features.
Our goal has always been to work hand in hand with our agency clients to empower more collaborative and effective agency lending, monitoring, compliance, and asset management.
If you have thoughts and ideas, we would love to hear from you.  Don't ever hesitate to reach out to us at hi@prolinksolutions.com or give us a call at 877-237-3163.  As always, we will continue to push the boundaries of technology and look forward to the continued evolution of HFA technology supporting the critical mission of affordable housing for years to come.
Additional Resources on Build vs. Buy
BlackRock – http://www.blackrock.com/corporate/en-us/literature/whitepaper/viewpoint-asset-management-technology-aug-2014.pdf
Forbes – http://www.forbes.com/sites/chuckcohn/2014/09/15/build-vs-buy-how-to-know-when-you-should-build-custom-software-over-canned-solutions/#124657b04849
CIO – http://www.cio.com/article/3001357/software/how-to-determine-when-to-build-or-buy-enterprise-software.html