New Updates to our ProLinkHFA Software Suite!
Every quarter we release new product functionality to the ProLinkHFA Software Suite, which includes our ProLinkHFA back office software, our electronic portal Procorem, and complete Microsoft Excel & Word integration with SmartDox.
Our goals and vision of the product, any regulatory updates that come to fruition, and our HFA User Group guide these quarterly releases. Learn more about our HFA User Group here.
Now let's take a look at the updates made this quarter:
Asset Management and Compliance Updates
This quarter we made a handful of enhancements in our Asset Management and Compliance module. The first we want to feature is around our ad-hoc reporting functionality, which we call Data Views. We created a new data view, or report, that provides the ability to better track the completion of annual report reviews.
Another new feature, created for better compliance, is the ability to test rent against Fair Market Rent (FMR) limits for Low Income Housing Tax Credit (LIHTC) units. Agencies can use this feature to determine if a property is in violation of the additional state requirement they agreed to as stated in their land use restriction addendum (LURA).
File Management
ProLinkHFA is a backend database to store the files related to your deals. The critical nature of this data is why it is so important that we continually improve upon the functionality. With the help of our User Group, we identified two features to help optimize this functionality.
The first new feature allows our users to add an attribute to individual files when uploading multiple files. Sometimes our users can upload hundreds of files at one time, and now they are able to group documents together, saving a lot of time.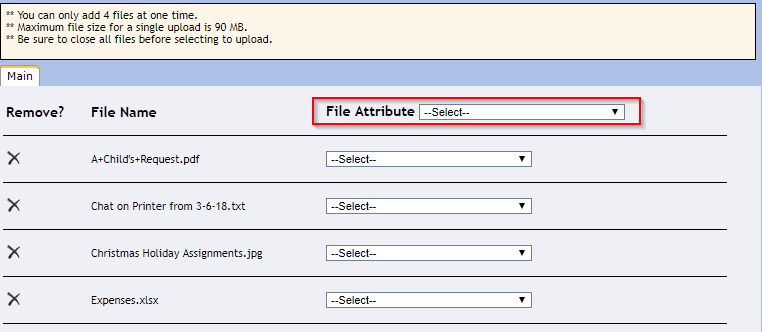 A second feature to highlight is related to files around inspections. Now our users can link their Inspection Reports to our WorkFlow functionality so that when a report has been completed and uploaded an automatic email notification with a link to the report is sent to the appropriate users. This automation ensures that these documents don't get overlooked or lost.

Procorem Updates
One of the components of the ProLinkHFA Software Suite is our secure collaboration portal, Procorem. This quarter we made a variety of updates that help make the technology a bit easier to use, such as being able to add a user to multiple WorkCenters at one time. For more information on these new features, check out this blog on our Procorem website.
As we continue to grow, it is important that our products grow as well to better serve our clients. These are some of the ways we grew our product this quarter. If you are interested in learning more about ProLinkHFA, head over here or, as always, do not hesitate to contact us directly.
Be sure to come back next quarter to see the next round of updates we have released!