Our Promise to You
Our vision is to be the technology solution for transparency and insight into the obligations between individuals and organizations.
At ProLink Solutions, our promise to you is to deliver peace of mind when it comes to processes and data about your business. ProLink has been keeping this promise to organizations of all sizes since 1998. The ProLink Framework is the solution for outdated legacy systems, improved efficiency in business processes, transparent asset management, simplified compliance, and enterprise-level reporting. Whether your organization is looking for HFA software, a tax credit investment solution, a commercial real estate system, or a custom software built just for your business: we promise that we can help.
Which question can we help answer for you:
After 15 years of serving the nation's largest banks, HFAs, and international real estate companies, we know our clients have other options when it comes to their enterprise management systems. Why do they choose ProLink? And why should you? Here are five of the most common reasons our clients choose and stick with ProLink software. We're honored by the confidence and loyalty our clients have shown toward us.
Your ProLink implementation is tailored to meet the needs of your organization—because one size definitely does not fit all.
An experienced Business Analyst first documents and assesses your current systems and workflow to determine potential areas of increased efficiency. We work with you to accommodate your processes and choose the software modules to integrate, before beginning testing, quality assurance, and implementation. Our structured four-step approach guarantees that your system needs are understood and verified, and that your tailored solution is submitted to rigorous testing before being fully implemented and rolled out for use.
Your information is easily available on a single platform.
Using a fully-integrated ProLink system reduces the number of man-hours spent entering the same data into disparate systems, while also offering enterprise-level visibility into your organization's data. Our system enables you to verify when and who last changed each record, track asset management activities, and streamline reporting with the ad hoc reporting tools that are embedded in the solution. Because all of your information exists on a single platform, many processes can be automated to increase the efficiency of your organization's employees.
Your system can scale with the growth of your organization.
Because your solution is tailored to fit your organization's needs through the choice of modules built into the ProLink Framework, your system can easily be scaled as you grow. As software needs increase, the system can be expanded with the implementation of additional modules. If needs arise that cannot be met by existing modules, ProLink offers the option of custom software development to fill in the gap and ensure you have a system that completely meets your company's requirements.
Your information is safeguarded by several layers of security.
At ProLink Solutions, we take security very seriously. With both our software and custom development we strive to find the balance between usability and data security to ensure our clients receive the best of both worlds – secure data available anytime, anywhere.  ProLink follows industry best practices for data encryption, in-application security, and business redundancies to ensure your data is safeguarded at all times.  To learn more about security practices click here.
Your team will quickly adopt your new ProLink software, because we make it easy to use.
Software isn't successful if no one uses it. Reducing the learning curve of a new solution makes it easier for involved parties to utilize new technology. That's why our SmartDox Add-in allows your organization's employees to continue using many of the Microsoft Office applications with which they're familiar, while still updating the central database with the information that's input.
ProLink Solutions delivers enterprise grade software to the affordable housing, financial, and real estate industries.  Our award winning ProLink Platform is tailored to meet the needs of all the different players in the industry – from investors, housing finance agencies, tax credit syndicators, commercial mortgage originators, and more.
Take a look at our suite of tools below to learn more:
Software for Housing Finance Agencies
Origination - Tax Credit Allocation - Asset Management - Compliance
ProLinkHFA is a web-based software application that simplifies the complexities in providing affordable housing to qualified tenants. Our software captures all of your metrics and activities in tax credit allocation, construction management, asset management, and compliance in one database.
Software for Tax Credit Investments
Syndicators - Investors
ProLinkAIM is web-based software created to streamline all multifamily and mixed use asset management activities in a single database. Easily access fund and investment performance, review occupancy, analyze risk, export general ledger entries, automate financial reporting, and develop relationship structures across all investments.
Custom Software
Solutions Utilizing the ProLink Platform
When off-the-shelf products don't work, ProLink Solutions will work with your business to deliver a customized solution specifically tailored to fit your needs. Each custom software project begins with the award winning ProLink platform to ensure reliability, minimize cost, and improve speed to the market for your next project.
ProLink starts each implementation with our proven framework. This is how our suite of tools works together for your business: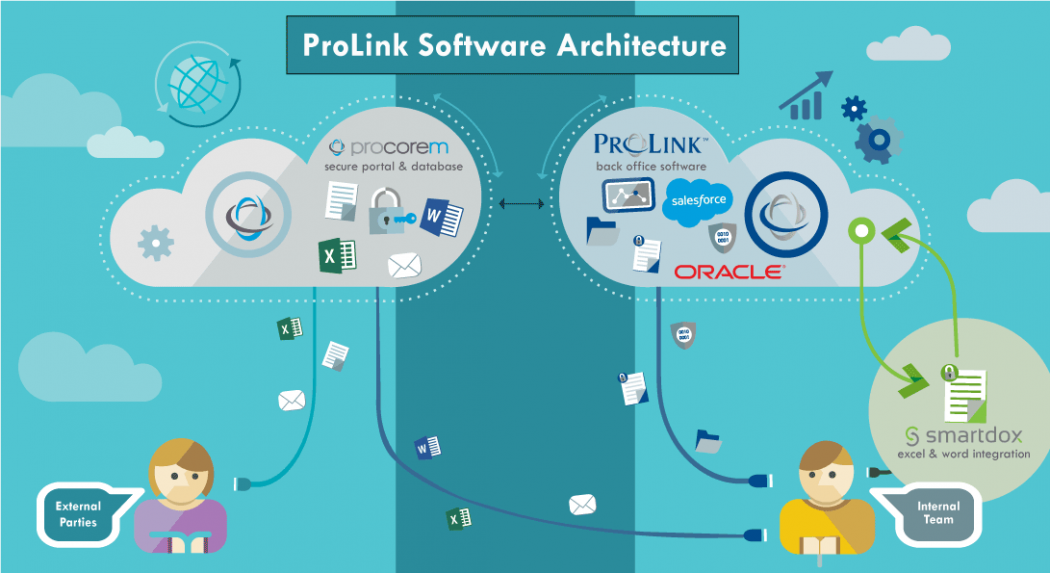 We start with our proven ProLink framework as your back-end, single database for all your business needs.  This can be one of our products, ProLinkHFA or ProLinkAIM. The back-end, single database can also be your own established software if that is what you prefer. This part of the software suite houses all the information that populates SmartDox, our tool to push and pull data from Excel & Word. This allows you to keep all your templated documents but eliminates the need to rekey information from your database into your templates. Procorem is your audited, communication portal for internal and external parties. These tools work together to make your job simpler.
"VHDA eliminated 8 legacy systems, 22 manual processes, and facilitated intra-departmental data into one system…ProLink provides peace of mind. VHDA now has the data and transparency to report on its developments in an accurate and timely manner."