Why ProLink Custom Software?
At its roots, ProLink Solutions is a software development company capable of creating custom software for any industry. With over 18 years creating financial and real estate custom software solutions, our team has unique insight into the complexities of managing large amounts of data, integrating spreadsheets, merging workflows, and automating business processes.
When off-the-shelf products don't work, ProLink Solutions will work with your business to deliver a custom software solution specifically tailored to fit your needs.  By partnering with ProLink on your next project, you immediately benefit from the same foundational technology utilized by some of the largest institutional investors, regulatory authorities, financial institutions, and real estate companies in the country.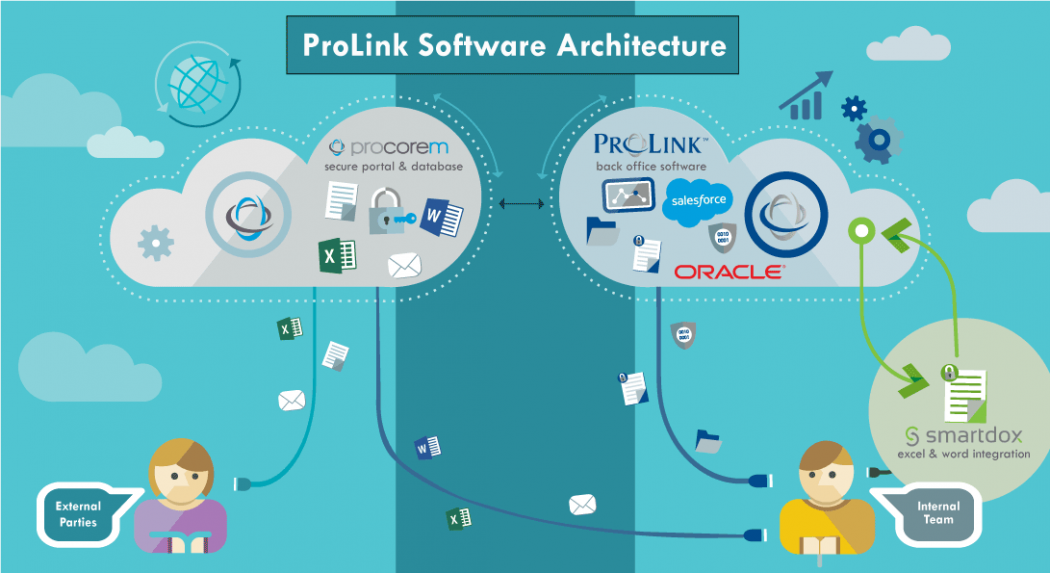 Each custom software project begins with the award-winning ProLink architecture to ensure reliability, minimize cost, and improve implementation time for the software to be in production for your next project!
1. Discovery Stage: When beginning a new client project, we start by assessing your organization's business needs, workflows, and processes. We do this by interviewing all impacted stakeholders to identify issues and potential areas for improvement. Discovery continues through the process of analyzing your organization's spreadsheets, document templates, databases, and applications. When we understand how things operate, we create documentation of the current process and develop a proposal for a new one.
2. Design Stage: The proposal created at the end of the Discovery Stage is used to develop an interactive prototype. This prototype allows the client to validate the design against business processes. Once the prototype and accompanying documentation is approved, actual software development begins. The Design Stage allows our clients to review and verify design criteria before heavy development begins, which controls rework costs from occurring at a later date.
3. Implementation: Beginning as we build the agreed-upon design with our core technology, the ProLink Architecture. We adhere to strict coding standards to ensure consistency and continued maintainability of the software. As each section of the software is completed, automated unit tests are built and executed, so that any errors can be corrected early on. The production-ready application is published to a staging environment to begin the comprehensive testing conducted by Quality Assurance. During each iteration, developers work with client stakeholders and business analysts to overcome any obstacles or flaws in design.
4. Enhancement & Support: Each step of the ProLink implementation is monitored for quality, allowing adjustments to be made as needed to achieve optimal efficiency. The end result? A seamless custom software solution, designed to meet the exact needs of your organization.
Our Suite of Solutions:
Click through to see our software solutions we have created